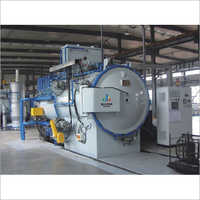 Horizontal Twin Chamber Vacuum Oil Quenching Gas Cooling Furnace
Price And Quantity
Product Specifications
New

Heat Treatment furnace
Product Description
Description
The vacuum oil quenching furnace is suitable for vacuum oil quenching of materials like alloy steel, bearing steel, spring steel, die steel, high-speed steel, etc. Horizontal twin chamber oil quenching furnace can also applied to aging and gas cooling process for the above materials.

Technical Features

Excellent temperature uniformity realized by octagon-shaped furnace hearth.
The heating elements adopt unique non-ceramic supporting technology. It can be used for five years without any insulation problem.
The inner trolley is overlap type stretchable structure with frequency converting function. It has a stable transportation speed with "full-fast-slow steps, which makes the transportation time very short.
Build-in heat exchanger and forced gas cooling type contribute to the uniformed and high-low-rating jet gas, which eventually makes the cooling speed very fast.
Auto load cart, remote control, loading and unloading need only one operator.
High volume oil tank and hot oil cooling by external circulation and heat exchanger, achieving has a better cooling effect.
Two cooling types -- oil stirring and oil injection cooling, are used for various kinds of products, which makes the product have less deformation.
The horizontal twin chamber heat treatment furnace features larger load capacity and higher efficiency comparing with other same specification products.

Optional Configuration of Vacuum Oil Quenching Furnace

Furnace door: On-line/off-line, vertical up and down, rotating
Insulation gate in the middle: Mechanically-driven/pneumatically-driven
Quenching oil flow type: Paddle stirring/nozzle jetting/both of the two types
Furnace hearth: Graphite heating elements and graphite felt heat insulation/Nichrome heating elements and stainless steel heat insulation/Molybdenum heating elements and metal heat insulation  
Gas cooling type: build-in heat exchanger/external heat exchanger/none
Vacuum pump and gauge: Foreign brand/high-quality Chinese brand
Vacuum degree: High vacuum/medium vacuum
PLC: OMRON/Siemens/Mitsubishi
Temperature controller: SHIMADEN/EUROTHERM/Honeywell
Thermocouple: S type, K type, N type
Recorder: Paperless recorder/paper recorder
HMI: Simulation screen/Touch screen
Electric components: High-quality domestic brand/Schneider/Siemens

Specifications of Vacuum Oil Quenching Furnace

Spec\Model

HVOQ-334D

HVOQ-446D

HVOQ-557D

HVOQ-669D

HVOQ-7711D

HVOQ-8812D

HVOQ-9915D

Effective hot zone size W×H×L (mm)

300 × 300 × 400

400 × 400 × 600

500 × 500 × 700

600 × 600 × 900

700 × 700 × 1100

800 × 800 × 1200

900 × 900 × 1500

Load Capacity (kg)

75

250

400

600

1000

1200

1500

Heating Power (kW)

48

75

90

150

270

360

480

Max.Temperature(°C)

1150

1150

1150

1150

1150

1150

1150

1350

1350

1350

1350

1350

1350

1350

Temperature Uniformity (°C)

±5

±5

±5

±5

±5

±5

±5

Vacuum degree (Pa)

4 × 10-1

4 × 10-1

4 × 10-1

4 × 10-1

4 × 10-1

4 × 10-1

4 × 10-1

4 × 10-3/6 × 10-4

4 × 10-3/6 × 10-4

4 × 10-3/6 × 10-4

4 × 10-3/6 × 10-4

4 × 10-3/6 × 10-4

4 × 10-3/6 × 10-4

4 × 10-3/6 × 10-4

Pressure Increase Rate (Pa/h)

≤0.26

≤0.26

≤0.26

≤0.26

≤0.26

≤0.26

≤0.26

≤0.65

≤0.65

≤0.65

≤0.65

≤0.65

≤0.65

≤0.65

Transportation time (S)

≤12

≤15

≤20

≤25

≤35

≤35

≤40

Oil tank volume (L)

800

2000

3500

5500

9500

11000

14000

Cooling gas (99.995%)

N2/Ar

N2/Ar

N2/Ar

N2/Ar

N2/Ar

N2/Ar

N2/Ar

Gas cooling pressure (bar)

2

2

2

2

2

2

2
Trade Information
Any port in China

10 Per Year
180 Days

Contact us for information regarding our sample policy
Packed in standard wooden box

Africa, Middle East, Western Europe, Eastern Europe, South America, North America, Central America, Australia, Asia
All India

ISO 9001, ISO14001 & IHSA 18000