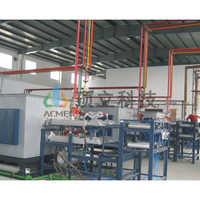 Reduction Furnace
Product Description
Reduction Furnace that we are offering is widely appreciated owing to its premium quality, top-notch design, and unmatched performance. This is an electrically operated heating machine that is employed in the chemical plants for the reduction process. The furnace is equipped with an additional preventative system that protects the furnace from getting damaged due to extremely high temperature, oxidization, and various other such factors. Owing to its user-friendly operations, cutting-edge design, it is easy to work with the Reduction Furnace.
Technical Features

Multiple tube heating assures good temperature uniformity and large production capacity.
The intermittent loading and unloading type assures good sealing performance and low gas consumption.
Pusher furnaces are configured with full automatic boat charging, boat pushing, unloading and boat dumping service, which ensures stable quality and low labor force.
Furnace has the functions of remote control operation, remote malfunction diagnosis and remote program update functions.