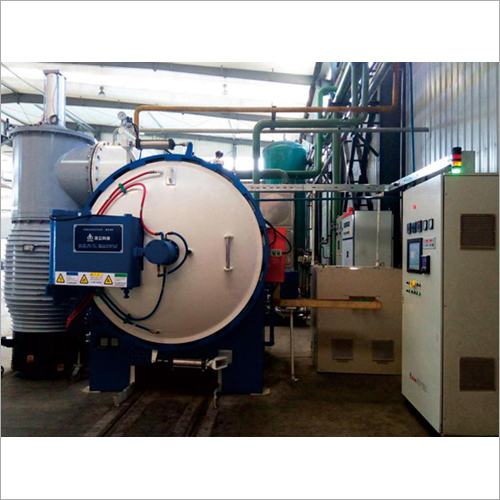 Product Description
Application
It is used for vacuum aging and re-crystallize annealing after solid solution of tool steel, die steel, high speed steel, super high strength steel, stainless steel, high temperature alloy Ti alloy and etc.

Technical Features

Horizontal, single chamber, loading horizontally. The way of opening door is optional according to customers requirement.
All metal hot zone, good temperature uniformity.
Aging at high vacuum, the part is bright and without color change.
The fast cooling system composed of inner heat exchanger and gas cooling circulation can effectively prevents components from tempering brittleness.
It has convection heating device, which can ensure the temperature uniformity at the state of low temperature.
It has rapid cooling using copper fin heat exchanger and blower, optional of internal circulation and external circulation.

Configuration Options

Furnace door type: On-line; Off-line; Vertical up and down; Rotating
Vacuum pump unit and vacuum gauge: Abroad brand; high-quality Chinese brand
PLC: OMRON; Siemens; Mitsubishi
Temperature controller: SHIMADEN; EUROTHERM; Honeywell
Thermocouple: Type K; Type N; Type S
Recorder: Paperless recorder; Paper recorder
HMI: Simulation screen; Touchscreen with industrial computer
Electric components: High-quality Chinese brand; Schneider; Siemens

Main Specifications

Parameter\Model

HVA-335S

HVA-446S

HVA-557S

HVA-669S

HVA-7711S

HVA-8812S

HVA-9915S

Effective hot zone size W×H×L (mm)

300 × 300 × 500

400 × 400 × 600

500 × 500 × 700

600 × 600 × 900

700 × 700 × 1100

800 × 800 × 1200

900 × 900 × 1500

Loading capacity (kg)

75

250

400

600

1000

1200

1500

Heating power (kW)

30

45

75

100

150

180

240

Max. temperature (°C)

1300

1300

1300

1300

1300

1300

1300

Temperature uniformity (°C)

±5

±5

±5

±5

±5

±5

±5

Vacuum degree (Pa)

4 × 10-3/6 × 10-4

4 × 10-3/6 × 10-4

4 × 10-3/6 × 10-4

4 × 10-3/6 × 10-4

4 × 10-3/6 × 10-4

4 × 10-3/6 × 10-4

4 × 10-3/6 × 10-4

Pressure increasing rate (Pa/h)

≤0.26

≤0.26

≤0.26

≤0.26

≤0.26

≤0.26

≤0.26

≤0.65

≤0.65

≤0.65

≤0.65

≤0.65

≤0.65

≤0.65

Gas cooling pressure (bar)

2

2

2

2

2

2

2
Contact Us
ACME Technology park, MuYun Industrial Zone, Economic Development Zone, Changsha, Hunan, 410118, China
Phone :86-731-82961396