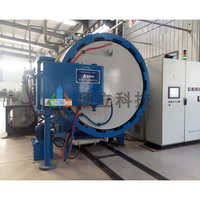 Vacuum Furnace
Product Description
Vacuum Furnace that we are offering is a kind of furnace that is used for the heating of a product under absence or air or other gases. Ideally, a vacuum is the space having nothing not even a single molecule of air. The absence of air helps to prevent oxidization, heat losses, and contamination of the product. The furnace is suitable to heat materials like metals and ceramics. It can produce heat as high as 3000 degree Celsius. Apart from this, our offered Vacuum Furnace is a durable and highly functional system and also, it does not need frequent maintenance to function uninterruptedly.
Technical Features

The vacuum impregnation furnace has multiple stage safety protection.
Locking ring is hydraulic driving with mechanical limit.
Door open is hydraulic manual open or auto open, which is simple to operate.
Low temperature impregnation furnace has single chamber and twin chamber option.
High temperature melting infiltration furnace can continuous working to improve the production efficiency.