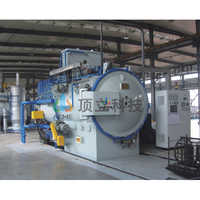 Vacuum Quenching Furnace
Product Description
Vacuum Quenching Furnace that we are offering is an industry-specific product that is designed for the quenching of the process material under most controlled environment. Quenching is performed under the absence of the air or other gases so that the product under treatment does not get oxidized or contaminated. The vacuum furnace removes the oxygen and prevents it from accumulation during the process. Owing to its ergonomic design, top-notch quality, and robustness, the Vacuum Quenching Furnace is sure to function for the extended period of time.
Technical Features

It is horizontal, twin chamber structure, all stainless steel construction.
All metal hot zone, great temperature uniformity.
The heating elements adopt unique non-ceramic supporting technology. It can be used five years without any insulation problem.
The inner trolley is overlap-type stretchable structure with frequency converting function. It has a stable transportation speed with "slow-fast-slow" steps, which makes the transportation time very short.
Large loading capacity and high efficiency.
Water tank temperature 5-10°C.