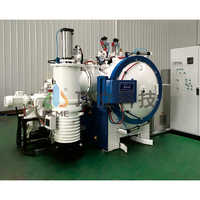 Vacuum Sintering Furnace
Product Description
The offered Vacuum Sintering Furnace is a latest electrically operated heating equipment that is widely acclaimed for its technically sound design, performance, and durability. This furnace processes the material under the absence of the air or other gases so that the risk of oxidization or contamination is eliminated. Owing to its ergonomic design, user-friendly operation, and long service life, the demand of the furnace is increasing day by day. We have made available Vacuum Sintering Furnace in bespoke specifications. Besides, the furnace is assembled of the premium quality components and parts, therefore, its maintenance is easy and cost-effective.
Technical Features

The furnace uses special hot zone structure and heating element design, which features temperature uniformity.
It adopts advanced refractory structure and materials, which features good insulation performance and less heat absorption. It can save more than 20% energy compare previous design.
The touch screen operation and PLC central control are adopted to make the operation simple and reliable.
Vacuum sinter furnace has functions of slow vacuum, vacuum sinter, minor positive pressure sinter and partial pressure sinter.
The vacuum sintering furnace has the functions of over temperature and over pressure fault alarm, mechanical automatic pressure protection and interlocking, which forms a highly safe furnace.
It has remote control operation, remote malfunction diagnosis and remote program update functions.